AFFILIATIONS


EMERSON COLLEGE, DEPARTMENT OF PERFORMING ARTS
HARVARD UNIVERSITY, THE MINDA DE GUNZBURG CENTER FOR EUROPEAN STUDIES
HARVARD UNIVERSITY, DAVIS CENTER FOR RUSSIAN AND EURASIAN STUDIES
LITERARY MANAGERS AND DRAMATURGS OF THE AMERICAS
THE NATIONAL ACADEMY OF TELEVISION ARTS & SCIENCES
THEATRE COMMUNICATIONS GROUP
THE DRAMATURGS' NETWORK
CONTEMPORARY PERFORMANCE NETWORK
THE SOCIETY OF AUTHORS
INTERNATIONAL CENTER FOR WOMEN PLAYWRIGHTS
INTERNATIONAL THEATRE INSTITUTE: WORLD PERFORMING ARTS ACADEMY
INTERNATIONAL FEDERATION FOR THEATRE RESEARCH
AMERICAN SOCIETY FOR THEATRE RESEARCH
PERFORMANCE STUDIES INTERNATIONAL
AMERICAN COMPARATIVE LITERATURE ASSOCIATION
INTERNATIONAL COMPARATIVE LITERATURE ASSOCIATION
POLISH THEATRE PERSPECTIVES JOURNAL
AMERICAN ASSOCIATION FOR POLISH-JEWISH STUDIES
POLISH STUDIES ASSOCIATION
POLISH AMERICAN ADVISORY COUNCIL
THE GREATER BOSTON THEATRE ALLIANCE
NEW ENGLAND THEATRE CONFERENCE
STAGE STATUS
MASKS: JOURNAL OF LAW AND THEATRE
85 BROADS: GLOBAL WOMEN'S NETWORK
STANFORD ALUMNI ASSOCIATION
CORNELL CLUB OF BOSTON
NEWS

4/13 - "A provocative blog post making one case for a National American Theater - Magda Romanska posts a wide-ranging, historic, international perspective on American theater vs. national theater traditions" - The National Performing Arts Convention

4/13 - Yale University, guest lecture: "Of Drammatology: Form and Content in Performative Exchange" - Interdisciplinary Performance Studies at Yale

4/13 - University of Toronto, American Comparative Literature Association Conference - Seminar: "The Politics as Theatre/ Theatre as Politics

3/13 - "How the Holocaust shaped theatre: Emerson Professor describes its impact on Polish theatre" - Interview with The Jewish Advocate

3/13 - Yale University Symposium, guest panelist: "Poetry as a Practice of Encounter," Interdisciplinary Performance Studies Conference Grotowski + Performance Research

2/13 - Article: "Grotowski and Kantor: Theatre and Theory" anthologized in Jerzy Grotowski: L'ereditŕ vivente from Academia University Press, Italy.

1/13 - Review of Mabou Mines "Dollhouse" published at Hotreview.org

1/13 - The Post-Traumatic Theatre of Grotowski and Kantor at #12 on Amazon Hot New Theatre releases

12/12 - The Post-Traumatic Theatre of Grotowski and Kantor released - now available on Amazon.com



10/12 - University of Toronto, Drama Center, guest lecture: "Performing After Auschwitz: The Post-traumatic Theatre of Grotowski and Kantor"

09/12 - 08/12 - Boguslaw Schaeffer: An Anthology now available on Amazon Kindle

08/12 - Boguslaw Schaeffer: An Anthology launches at the Edinburgh Theatre Festival

08/12 - Article: "Chekhov in the Age of Globalization" anthologized in Adapting Chekhov: The Text and Its Mutations from Routledge, New York - London

04/12 - Magda Romanska's "a brilliant piece of tongue-in-cheek satire" - "How I Survived Socialism" published in The Cosmopolitan Review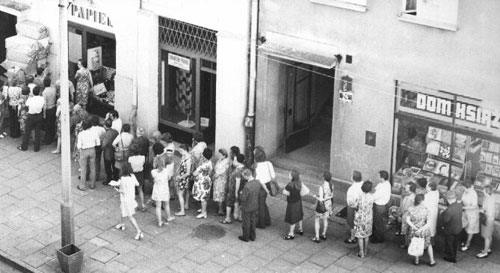 06/12 - "Richard Foreman in conversation with Magda Romanska" at Hotreview.org

04/12 - Tufts University, Department of Drama: invited panelist - "Cultural and Linguistic Translation in the Theatre"

04/12 - Café Variations (SitiCompany) opens at ArtsEmerson



04/12 - Café Variations blog, "A Constellation of Moments," at ArtsEmerson

03/12 - Awarded Faculty Advancement Fund Grant, Emerson College

01/12 - Conversation with John Huston, polar explorer at ArtsEmerson

12/11 - Magda Romanska wins the 2011 Aquila Polonica Prize from the Polish Studies Association for best article written in English

11/11 - Interview: "Magda Romanska: Conversation about art, theatre and other disasters" - African-American Playwrights Exchange (AAPEX)

08/11 - Awarded the Thesaurus Poloniae Senior Fellowship from the Ministry of Culture and National Heritage of the Republic of Poland, Cracow

5/11 - Article: "Between History and Memory" # 3 on the list of the top 10 most-read articles for the previous year.

12/10 - Magda Romanska wins the 2010 Gerald Kahan Prize from the American Society for Theatre Research for "Best Essay Written and Published in English in a Refereed Scholarly Journal"

Magda Romanska, M.A., Ph.D.

is Associate Professor of Theatre and Dramaturgy at Emerson College in Boston, MA, and Research Associate at Harvard University's Minda de Gunzburg Center for European Studies.
She is a recipient of the 2011 Aquila Polonica Article Prize and the 2010 Gerald Kahan Scholar's Prize. A former exchange scholar at the Yale School of Drama and fellow at the Mellon School of Theatre and Performance Research at Harvard University, Romanska graduated with honors from Stanford and holds a Ph.D. from Cornell University.
FULL BIOGRAPHY
---
"A brilliant cross-disciplinary comparative analysis that joins a new path in theatre studies, revitalizing the artistic heritage of two great twentieth-century masters: Tadeusz Kantor and Jerzy Grotowski."
- Antonio Attisani, Department of Humanities, University of Turin, Italy

"This is a lucidly and even beautifully written book. [...] this will be the book on the subject the author set out to explore and it's very rare that one can say that about any book!"
- Anne Rothe, Department of Classical and Modern Languages, Literatures, and Cultures, Wayne State University

read more


"I place Boguslaw Schaeffer's genius firmly at the centre of the European cultural heritage which expressed avant-gardism during my life-time."

- Richard Demarco, Preface